Search the Site: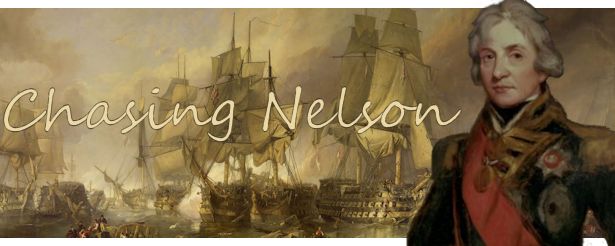 Nelson in the News: 4th November 2012
Letter to Lady Hamilton to Go on Sale
A letter Nelson wrote to Lady Hamilton is to go on sale at Bonhams auctioneers on the 13th November 2012.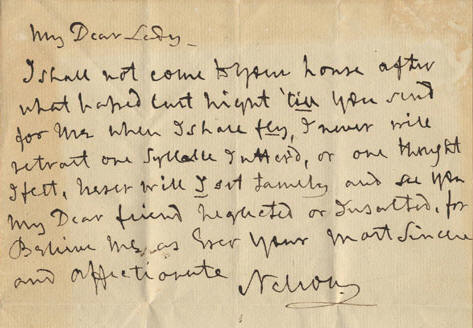 My Dear Lady,
I shall not come to your house after what passed last night 'till you send for me when I shall fly, I never will retract one Syllable I utter'd, or one thought I felt, never will I sit tamely and see you my Dear friend neglected or Insulted, for Believe me as Ever your most Sincere and affectionate
Nelson
The letter is undated, but given the way he signed the letter, it was most likely to have been written between November 1801 and January 1802. This is because after his victory at the Battle of the Nile, he had been signing himself "Bronte Nelson of the Nile". Back in England, due to the fact that Bronte was a foreign dukedom, and such titles being frowned upon, he started to sign himself "Nelson of the Nile". But in November 1801, after joining the House of Lords, he started to sign himself in the style expected of an English peer - "Nelson", as in this letter. When he went back to sea in January 1802 (leading up to the Battle of Copenhagen), he began to sign his letters with "Nelson & Bronte", which he did for the rest of his life.
This period of time saw the biggest turmoil in Nelson's private life. He had returned from the Battle of the Nile in the company of the Hamiltons, and Emma was very heavily pregnant with his daughter. At first, he, perhaps naively, thought that he could continue life as a married man, with Emma as his mistress. But of course his wife, Frances, was not happy with the arrangement, and his marriage came to a tempestuous end, and the whole affair scandalised high society. The incident Nelson speaks of in this letter, and the passionate and emphatic way in which he writes and phrases it, illustrate the turmoil Nelson experienced during this period.
There is some discussion as to what event the note could be referring to in a thread on the "Nelson and his World" website.
---
---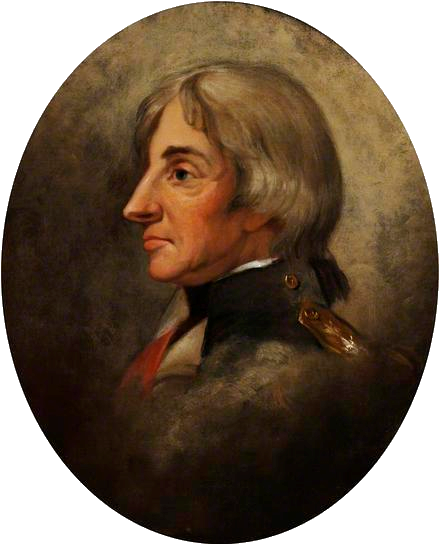 Copyright Vicki Singleton 2013.